48 MONTH / 2000 HOUR WARRANTY
Confidence in our Product
48 Months or 2000 hours* 
(Engine & Alternator)

12 Months or 1000 hours* 
(Fuel system, starting & charging system, cowlings, covers & frame assembly)
* Denotes – whichever occurs first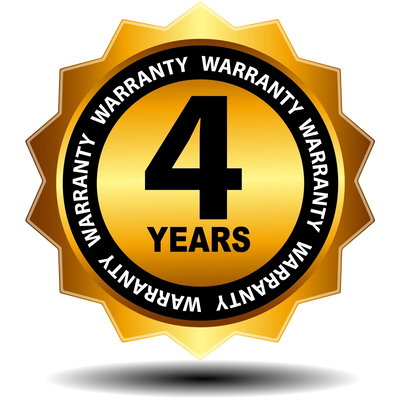 Standby (ESP) Warranty - Kubota Powered Diesel Generators
For a period of forty eight (48) months from the date of original sale or 2000 hours runtime, whichever occurs first SGEnergy warrants that its standby application generator will be free from defects in material and workmanship for the items and period set forth below. 
SGEnergy will, at its option, repair or replace any part(s) which, upon examination, inspection and testing by SGEnergy, or an Authorized/Certified SGEnergy dealer, is found to be defective. 
Any equipment that the purchaser/owner claims to be defective must be examined by the nearest Authorized/Certified SGEnergy Dealer. 
This warranty applies only to SGEnergy emergency standby generators used in "Standby" applications as SGEnergy has defined 'Standby'. Scheduled Maintenance, as outlined by the generator owner's manual, is highly recommended. 
This Scheduled Maintenance should be performed by an Authorized/Certified SGEnergy Dealer. 
This will verify service has been performed on this unit throughout the warranty period. 
Definition of Standby (ESP) and Prime (PRP) Applications for Diesel Generators
The Engine-Generator set consists of a diesel engine and a generator mounted on a common baseframe. Upon demand, the engine will start and drives the generator to produce electrical power.
Engine-Generator sets are classified in two groups;
Engine-Generator sets for Prime Power (PRP) are designed for continuous operation at constant load or for time-limited continuous operation.
Engine-Generator sets for Standby Power (ESP) are designed to ensure power supply in the event of power blackout. They are designed for either short-term operation at variable load, or for limited continuous operation.
GUIDELINES
1. Travel allowances are limited to 70 Kilometres maximum and two (2) hours maximum (per occurrence) round trip to the nearest Authorized/Certified SGEnergy Dealer. 
2. Warranty begins upon the successful registration of the unit. 
3. Proof of Purchase and Maintenance must be available. 
4. Warranty only applies to permanently wired and mounted units. 
5. Warranty is transferable between ownership of original installation site. 
6. Any and all warranty repairs and/or concerns, must be performed and/or addressed by an Authorized/Certified SGEnergy Dealer, or branch thereof. Repairs or diagnostics performed by individuals other than SGEnergy authorized dealer not authorized in writing by SGEnergy will not be covered. 
7. Covered warranty labor rates are based on normal operating hours. Overtime, holiday, or emergency labor costs for repairs outside of normal business hours will be the responsibility of the customer. 
THIS WARRANTY SHALL NOT APPLY TO THE FOLLOWING
1. Damage to any covered components or consequential damages caused by the use of a non-OEM part will not be covered by the warranty. 
2. Costs of normal maintenance (i.e. tune-ups, associated part(s), adjustments, loose/leaking clamps, installation and start-up). 
3. Units sold, rated or used for "Prime Power", "Trailer Mounted" or "Rental Unit" applications as SGEnergy has defined Prime Power, Trailer Mounted or Rental Unit. Contact SGEnergy for Prime Power, Trailer Mounted or Rental Unit definitions. 
4. Units used for prime power in place of existing utility power (where utility power is present) or in place of utility power where utility power service does not normally exist. 
5. Damage to generator system (including transfer switch) caused by improper installation or costs necessary to correct installation. 
6. Any failure caused by contaminated fuels, oils, coolants/antifreeze or lack of proper fuels, oils or coolants/antifreeze. 
7. Failures due, but not limited, to normal wear and tear, accident, misuse, abuse, negligence, misapplication or improper installation. 
8. As with all mechanical devices, the SGEnergy engines need periodic part(s) service and replacement to perform as designed. This warranty will not cover repair when normal use has exhausted the life of a part(s) or engine. 
9. Products that are modified or altered in a manner not authorized by SGEnergy in writing. 
10. Damage related to rodent and/or insect infestation. 
11. Failures caused by any external cause or act of God including, without limitation, collision, theft, vandalism, riot or wars, nuclear event, fire, lightning, earthquake, windstorm, hail, volcanic eruption, water or flood, tornado or hurricane. 
12. Any incidental, consequential or indirect damages caused by defects in materials or workmanship, or any delay in repair or replacement of the defective part(s). 
13. Overnight freight or special shipping costs for replacement part(s). 
14. Living or travel expenses of person(s) performing service, except as specifically included within the terms of a specific unit warranty period. 
17. Rental equipment used while warranty repairs are being performed and/or overnight freight costs for replacement part(s). 
15. Expenses related to "customer instruction" or troubleshooting where no manufacturing defect is found.
16. Costs incurred for equipment used for removal and/or re-installation of generator, (i.e.; cranes, hoists, lifts, etc.) 
17. Planes, ferries, railroad, buses, helicopters, snowmobiles, snow-cats, off-road vehicles or any other mode of transport deemed abnormal. 
18. Starting batteries, fuses, light bulbs and engine fluids. 
THIS WARRANTY IS IN PLACE OF ALL OTHER WARRANTIES, EXPRESSED OR IMPLIED. SPECIFICALLY, SGEnergy MAKES NO OTHER WARRANTIES AS TO THE MERCHANTABILITY OR FITNESS FOR A PARTICULAR PURPOSE. Any implied warranties which are allowed by law, shall be limited in duration to the terms of the express warranty provided herein. Some states do not allow limitations on how long an implied warranty lasts, so the above limitation may not apply to you. SGEnergy's ONLY LIABILITY SHALL BE THE REPAIR OR REPLACEMENT OF PART(S) AS STATED ABOVE. IN NO EVENT SHALL SGEnergy BE LIABLE FOR ANY INCIDENTAL OR CONSEQUENTIAL DAMAGES, EVEN IF SUCH DAMAGES ARE A DIRECT RESULT OF SGEnergy's NEGLIGENCE. Some states do not allow the exclusion or limitation of incidental or consequential damages, so the above limitation may not apply to you. This warranty gives you specific legal rights. You also have other rights from state to state.